Thank you! We've emailed you the free eBook.
If you have any problems downloading the eBook or have more questions about backup and disaster recovery, leave us a message by submitting our contact us form below.
Hyperion Managed Services is always trying to simplify the most complex IT issues for our clients, and with this informative guide you'll understand what you need to do to prepare for every crisis. If you have more questions about backup & disaster recovery or if you need help with creating a plan, just fill out the form below and our experts will contact you right away.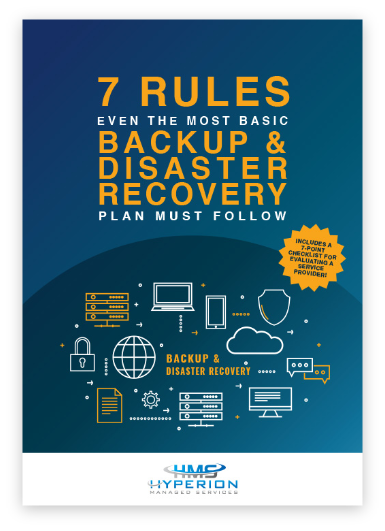 In the mean time, check out our latest blog posts

Mobile devices have become indispensable tools in the healthcare industry. Doctors, nurses, and other healthcare workers use mobile devices to access patient records, order medications,
Read More »

Threats lurk in every corner of the digital space, and businesses need to take extra steps to safeguard their data from malicious actors. Fortunately, there
Read More »

A reliable Wi-Fi network is the backbone of any modern office, enabling productivity and connectivity. Selecting the right office Wi-Fi router is crucial to ensure
Read More »